Shifting to an entirely new country can be exciting and can present you with many opportunities. To take the benefit of your new house and explore neighbourhood, the most important thing is to actually reach there. You need to plan the move, find right movers, pack all the things safely for shipment and sort all the necessary documents. Deciding if you want to drive your vehicle or ship it across country is difficult. There are pros and cons to both of these options and you need to consider them to make the right choice. 
How to Choose the Right Option?
One of the important things that you need to consider is the actual distance between your current point and your destination. You should look at the detailed map of the area that you will be travelling and examine the road infrastructure, topography, traffic patterns, road amenities and other relevant features. 
Decide the route that you will be taking and calculate the extra mileage as well. After this, you will be able to evaluate how much fuel you will need, how long it will take to reach the destination and how much you will have to spend on your gas. These numbers will help you decide how to transport the vehicle. 
The time of the year will also affect your decision on how to transport your vehicle. Adverse weather conditions in winter like cold wind, snowfall, icy roads can cause significant delays and can be risky to drive the vehicle in those conditions. Being on road for several days in low temperature can also affect your health.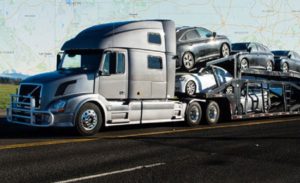 It's safe to ship your car in cold season. You can avoid any potential problems that might occur due to poor road conditions. While shipping, your car is kept in a closed truck to avoid any external damage to the vehicle. You will also have to pay less on delivery since shipping business is less busy in winters. 
Driving the car in warmer months can be pleasant and hassle-free. You can enjoy driving the car along with your family if you are moving between April and October. However, traffic can be heavy during this time of the year. Since car shipping costs are high in summers, it's cheaper to drive across the country. 
Ship a Car, Inc is a team of experienced professionals who provide high quality vehicle transport services. They can provide you seamless vehicle shipping experience at every turn. Ship a car across country with their high network coverage and best price to suit your budget. 
It can take anywhere between weeks to months to drive a car from one country to another. You need to consider if you are driving solo or taking your family along. If you are driving solo, you can carry out long driving hours, take shorter breaks and so on. However, if you are driving with family, you will need to stop often. 
It might not be in the best interest of your family to drive down to your new home. The permits, legislations, weather and traffic are some of the factors that can make your journey uncomfortable.  It's always easier to take a flight and let someone else deal with all that driving. 
Conclusion
Shipping your vehicle is a cheap, safe and convenient option especially for long journeys.